Our Target Field hotel is ideally located near one of the newest state-of-the-art ballparks, home to Minnesota professional baseball. Enjoy a fun day out with family and friends at a ballgame and enjoy Target Plaza, by the park. Just a short distance away from our hotel, enjoy a family fun filled day at the ballpark. Also for your ease we offer a complimentary shuttle to and from the park. Grab a bite to eat at our restaurant, Great Room Minneapolis, before or after a day of baseball action.
Target Plaza
Target Plaza spans the areas outside the stadium and has a bridge that connects Target Field to downtown Minneapolis. The plaza features nine 40-foot topiaries, a bronze baseball glove representing the Gold Glove Award, Twins Tradition Wall, legend statuses, Twins Hall of Fame Pennants, Minnesota Baseball History Monument and The "Wave" a wind powered wall installation.
Located at the corner of First Avenue and Sixth Street.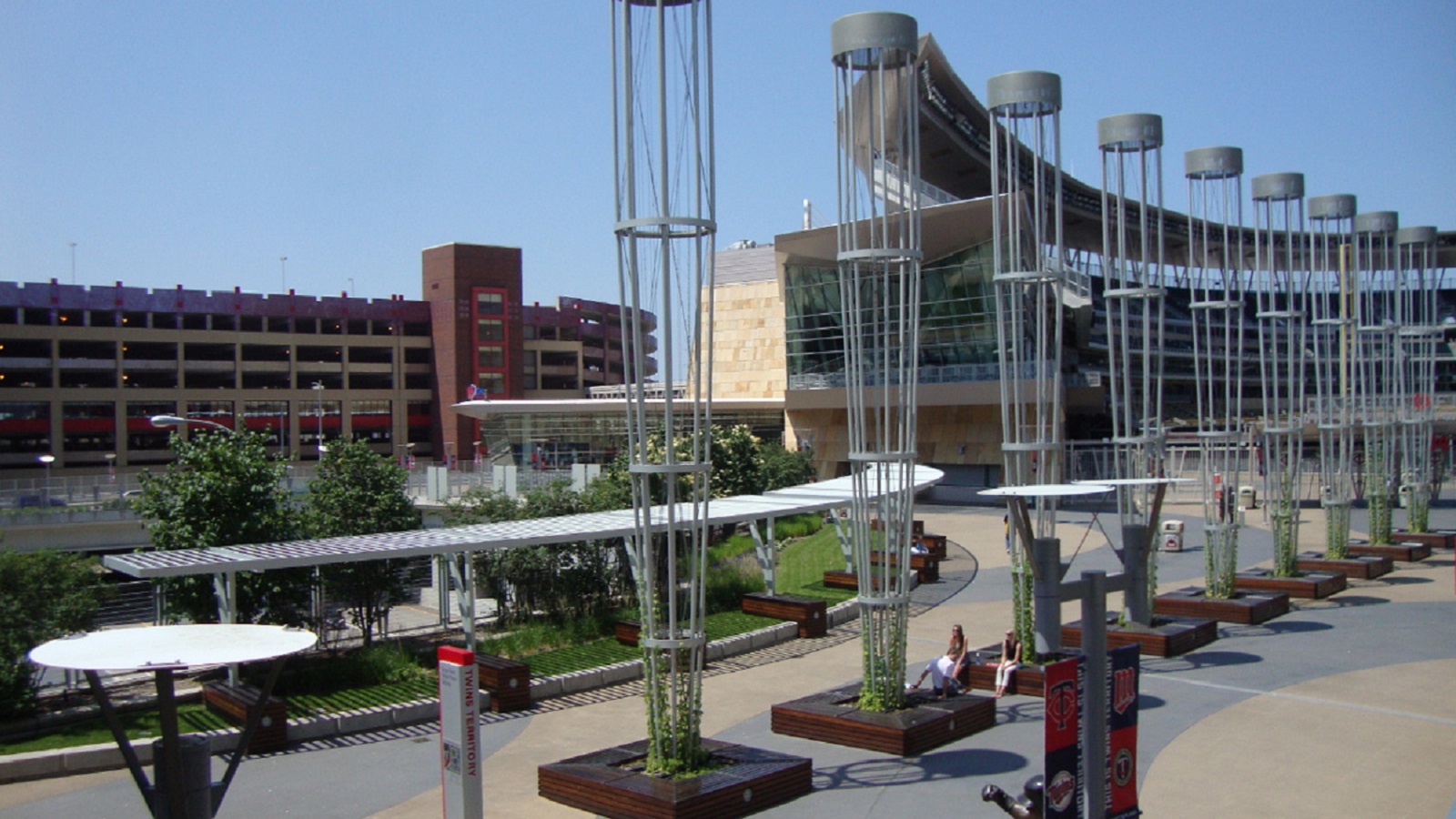 Construction Cost of $440 million
Field seats over 39,504 spectators
Over 3,000 club seats, Price-$22-275 per game (season ticket holders only), 98 percent sold
Rooftop canopy to protect spectators from the elements made of 1998 tons of steel
Budweiser Roofdeck featuring: bleacher seats, bar area and firepit
2.5 acres of grass from Fort Morgan, Colorado (Same as Wrigley Field and Notre Dame Stadium)
Environmentally friendly stadium with its Rain Water Recycle System
Stadium gates are named after past Twin's stars
The scoreboard will be the fourth largest scoreboard in Major League Baseball at 5,757 square feet
Concessions will be supplied from many Minnesota vendors and will highlight nine different themes, three of which pay tribute to past Twins players. There are also two full-service restaurants Hrbek's and The Town Ball Tavern)


Mill City Grill (Steak sandwich & Walleye Fries)
Hennepin Grille (burgers, hot dogs, fries & chicken tenders)
Frankie V's Italian (Pizza, calzones, italian chopped salad)
North Shore Creamery(soft-serve sundaes and Twins Helmet sundaes)
Halsey's Sausage House (Italian and Polish sausage and jumbo hot dogs)
Senor Smokes (Food from Panama (Juan's home) empanadas, burritos tacos)
Taste of Twins Territory (beer-steamed brats, jumbo hot dogs, and pretzels)
State Fair Classics (walleye on-a-stick), pork chop on-a-stick and cheese curds)
Twin Brews (craft and premium selections from Minnesota breweries)
Hotdogs from Schweigert meats, Kramarczuk's Sausages prepared fresh daily
Caribou Coffee